BASSIST / VOCALIST – DANNY RONGO: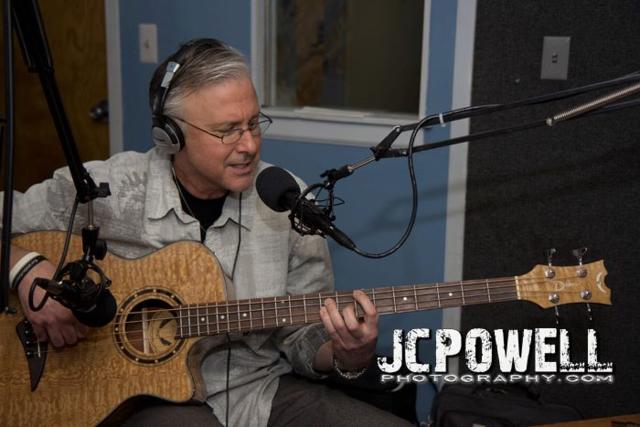 I started performing at age 11 with musical parents Frank (saxophone, vocals) and Dolores (vocalist). Studied with jazz bassist Mickey Golizio (Frank Sinatra Jr. Kenny Davern). Followed by club bands: MIDNIGHT SUN, MINUS 2, RHYTHM OF LIFE, MAIN SQUEEZE

1980-1981 Berklee College of Music studied with Professors of Bass Ron Appleman and John Nieves
1980-1983: NY/NJ popular cover band THE PASSIONS. Studied with Ron Naspo (professor of string bass William Paterson College)
1984: NYC original power-pop band THE PREPPIES

1986: NYC Sony Recording Artist "DOMINIQUE": Opening act for Billy Idol, Cyndi Lauper, Hall & Oates. Recording in Brussels, Belgium and European touring. Movie soundtrack and played the role of the heavy metal band for "Salvation" Beth B. Productions. Recorded 'Destroy All Evil' with Producer Arthur Baker featuring vocalist Exene Cervenka and 'Play The Beat' featuring Dominique.
1987: NYC pop-rock band JET RED

1988: CBS Recording artist "DARCUTIS".
1989-1992: NY/NJ original rock bands: TOUGH LICK, PICASSO TRIGGER, BISHOP LAW
1994-1996: NJ club band: RUSTY JOHNSON
1997:  Escape Records "ARCARA" A Matter of Time (writing credits on 'Gun Shy' and 'Lost in Time')
1997-2007: NY/NJ Freelance bassist and vocalist. Recording and performing with numerous acts
2010-2011:  "THE DANNY RONGO SHOW"  Weekly internet show webcast around the world via The Paltalk News Network. My show gave me the opportunity to perform and discuss my songs, share my inspiration and allow people from around the world to share their inspiring stories as well.
2008-CURRENT:  DR ONESONG MUSIC – BMI recording artist "DANNY RONGO" supporting cd's:
'Two Songs-Two Causes' 2009: Featuring "Where To Now?" recorded at 3 Zero Records, produced by Simon Harrison and "Say Thank You To A Veteran" recorded at The Sound Spa, produced by Stephen DeAcutis.
'PRODUCTIONS'  2012: featuring songs that were recorded with complete instrumentation (although I typically perform by myself with just my acoustic bass guitar). This cd was the result of many months of recordings at Sound Spa, O2 and City Lights Studios. The cd is being offered online through my 'Bandcamp' site.
'one bass one voice Simply ONESONG' 2015: My latest CD that features 'one bass and one voice', or exactly how I perform  in public! 13 original tunes, 2 cover tunes and a special bonus track make up this recent effort that took almost 2 years to complete. Recorded once again at the Sound Spa in Edison NJ with long-time friend, musician and producer Stevie D I am so very proud of this end product! CHECK IT OUT!
CURRENTLY:
'ONESONG' very popular club act where I sing your favorite songs from the '50s through today accompanied by killer backing tracks! Performing for senior assisted living facilities throughout NJ. Providing entertainment for private and company parties and gatherings
BASSIST: Aside from my shows as a solo artist I am also the bassist for The Darren DeMarco Band, I fill-in for bassist Kenny Aaronson in the John Eddie band and I also fill-in on bass with the band Goldenseal. I also perform in 'duos' with both guitarists Mike Padula and Joe Hughes
"THE PHONE CALL": 'A One Man Musical To Inspire ONENESS'. Using my songs as the backdrop for a conversation I have with a friend in need who is trying to come to terms with his spirituality and the concept of oneness. Currently performing at libraries, small theaters, and private home screenings via YourHomeMusical.com.
"I Am God" (And so are you my friend) A Common Man's Guide to ONENESS. Published by Balboa Press (a subsidiary of Hay House Inc.) Following on the heels of the musical to inspire oneness, 'The Phone Call' I continue my journey of oneness in book form.
'That Oneness Guy' – Podcast and Vlog. Found on all streaming sites and apps.
ACTIVIST: for U.S. Troops, Veterans, Spirituality, Global Warming, Cancer, Survivors of 9-11, and more.
FOUNDER:  DR ONESONG FOUNDATION
ACTIVE MEMBER OF VETWORK / U.S. ARMY FREEDOM TEAM  /  WOUNDED WARRIOR PROJECT  /  JERSEY SHORE JAZZ & BLUES FOUNDATION  / THE MUSICIANS PROJECT  /  MUSICIANS ON A MISSION  /  SPRING REINS OF LIFE   / ROCK THE VETS